Waffle Flower Crafts April Release Day 1 - Introducing Bowtiful Stamp Set
Clean Canvas Collaborator
·
April 01, 2014
Hello everyone! Welcome to
Waffle Flower Crafts April Release
! We will have new releases every two months starting today! We will introduce our new products here from 1st to 5th of the release months with products available for purchase on the 5th. On the 5th of the month in between our releases, we will have a design team blog hop. We have 6 design team members and they will share their creations on their own blogs throughout the month. Their projects will then be cataloged on our product pages in the store.
Extra Perks
: Our design team members will have separate giveaways on their blogs for every release! Be sure to check out their blogs often or check back at our blog here on Fridays for a heads up.
Day 1 - Introducing Bowtiful Stamp Set
I had the ambition to learn more about sewing. I have indulged in a few sewing books and pinned lots of projects to my Pinterest
sewing board here
. I found myself especially drawn to hair bows and bow ties. So before I can sew them, I want to make them into stamps.
Inspiration
[caption id="" align="aligncenter" width="570"]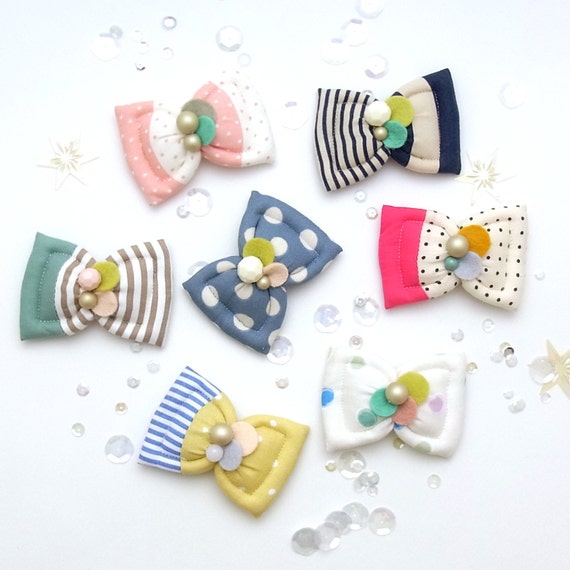 Source: Homako on Etsy
[/caption] [caption id="" align="aligncenter" width="560"]
Source: A Tutorial by The Pleated Poppy
[/caption] These are so cute I can't stand it!
Bowtiful Stamp Set
So here is my take:
[add_to_cart id="" sku="271000"]
Some examples:
A video: (Watch it below or in HD on YouTube)
https://www.youtube.com/watch?v=C-oxgLNutgM
And a quick card:
Ahem, I tried stamping a random pattern again. I'm thinking that if I have cut the bows out and just throw them on the card base, they might look more random... Hmmm, another reason we need dies, right? Something to try later!
Meet Our Design Team
I live in Northeast Ohio with my husband, our two lively and creative daughters, four cats and countless antique automobiles. By day, I work in the Human Resources department of a large bank, and by night, I am a paper engineer, DIY enthusiast and all around crafty gal. I started scrapbooking in 2001 and decided to try card making a few years later. Little did I know that stamping would take my crafty passion, enthusiasm, and stash of supplies to a whole new level!  I love to try new things and try to do something creative each and every day.  I am thrilled to be a part of the Waffle Flower Crafts design team!
Katie's creations always bring a smile to my face. I love the vibrate colors and impactful elements on her cards. Her bold and happy style makes me want to stamp something right away! She makes the cutest critter cards and the coolest graphic cards. I also love that she can create something very unique from simple supplies, such as the
Super Hero Card here
! You can find Katie's clever creations on her blog:
Our Charmed Life
and connect with her on the following sites:
Facebook Instagram Pinterest Flickr
Katie is sharing an extra card using our new products today, be sure to check it out!
Meet our first design team member and join the wild card giveaway here!
Today's Giveaway!
Bowtiful Stamp Set
We want to make sure there are many opportunities to win, so we came up with 12 chances to enter. You do not need to do them all to enter.
1 comment = 1 entry
! When the drawing time comes, we will use the total number of comments to draw from. This means that if you are following via Email, Facebook and Pinterest, you will need to leave 3 comments. If you are already a follower, just leave a comment telling us that you did:) * Leave a comment, 1 entry. * Follow the blog via RSS,
Feedly
or
Blog Lovin'
and comment here, 1 entry. * Subscribe to the weekly
Blog Updates
email and comment here, 1 entry. * Subscribe to our monthly
Store News
email and comment here, 1 entry. * Like Waffle Flower Crafts on 
Facebook
 and comment here, 1 entry * Share the giveaway on Facebook with a link to this post and comment here, 1 entry. * Follow us on
Instagram
and comment here, 1 entry. * Follow us on
YouTube
and comment here, 1 entry. * Follow us on 
Twitter
 and comment here, 1 entry. * Follow us on 
Pinterest 
and comment here, 1 entry. * Pin this post to Pinterest and comment here, 1 entry. * Join our
Flick Group
and comment here, 1 entry. Enter before 11:59pm Eastern on April 5, 2014. The winner will be announced on the blog on 6th. Thank you for stopping by! Hope to see you tomorrow!
156 comments