Can You Felt It? - Waffle Flower Blog Hop
Hello everyone! Welcome to
Can You Felt It? - Waffle Flower Blog Hop
! Today is the 5th of the month and also the day that the design team girls get together and share some fun craft projects using our newest stamps and dies released in April.
We have teamed up with
Benzie Design
 to share some felt projects today!
I used the
Promise
felt pack on my project.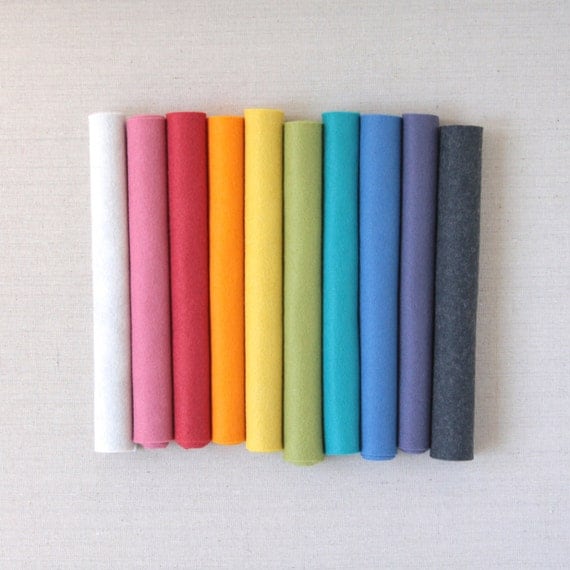 I ordered a few extra pieces of white felt (9"x12") to make my cloud. I free-hand drew a cloud on the felt and stitched two pieces together and stuffed it with polyester stuffings.
I then cut small pieces from the felt in the 
Promise
 pack to die cut with our
Mailable 3D Bow Template Die
.
The felt cuts like butter.
And I like how the colors compliment each other.
Our Mailable 3D Bow Template Die is all in one piece and you don't need any adhesive to assemble it. Here is a closeup on the back to show how the tail is tucked in.
I then cut some letters from both cork and felt for my sentiment.
I like the DCWV adhesive backed cork the best for die cutting projects. You can get 15 sheets of 6"x6" in a pack for $5.99 at Jo-Ann Store, where you can easily find a 40% off coupon for.
The alphabet die I used was from Lifestyle Crafts / We R Memory Keepers, I'm sorry that the particular one I used is no longer available in the store, but you can find more of them
here in WRMK's official store
, they are $15 each and you can use code WAFFLE for 20% off your entire order. I know some people are saying that the dies with ejection foams like the alphabet die I used here cannot cut felt, but I tried and it cuts fine in my die cut machine. You may experiment with different shim combinations to get yours working. A quick tip: Cut your felt to fit your alphabet die so nothing is wasted!
I then used some floss to attached the bows to my cloud.
It's raining bow in my room!
I had so much fun making this project and I hope that you are inspired to make something from felt as well!
Special Shopping Discount at Benzie Design
Benzie Design is generously offering a special shopping code for our blog readers to use during May. Code
WAFFLE10
for 10% off at
Benzie Design
. Valid through May 31st, 2014. Benzie Design has some gorgeous felt packs in the store. For more inspiration, checkout our design team girls posts today to see which felt pack may suit your needs better or maybe you should get them all? Haha! Have fun, everyone!
Waffle Flower <-- You're Here! Joni Andaya Katie Gehring Kim Kesti Lorena Cantó May Sukyong Park Suzanne Dahlberg
Giveaway
Don't forget to leave comments along the way for chances to
win a stamp set of choice
from Waffle Flower Crafts. Enter before midnight Eastern on May 8 and the winner will be announced on Waffle Flower Blog on May 9th.
Stay connected via 
Facebook
, 
Twitter
, 
Pinterest,
Instagram
 and
 YouTube
! We just started a dedicated Instagram account for Waffle Flower Crafts, if you use Instagram don't forget to check it out! Don't forget to share your projects using Waffle Flower Crafts products in our
Flickr Group Here
! We're planning on more ways for you to join the fun so stay tuned~~
36 comments